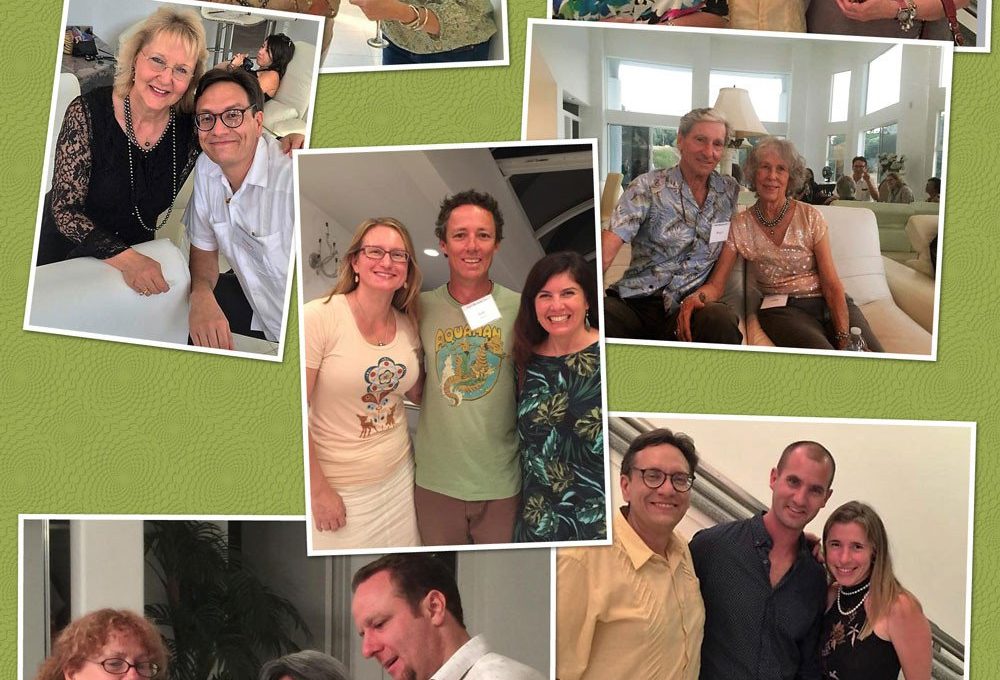 I was once more honored to attend the Annual Pearl Ruckus organized by Pearl-Guide.com (the world's foremost Open Pearl Forum). This year's is the 8th event and by large, the biggest with over 40 pearl loving attendees. It all started on July 29th and came to a close on the 31st and this great gathering of Pearl Lovers, Connoisseurs & Experts took place in a great, big mansion up in Beverly Hills (the Palazzo)…with a gran view of the great City of Los Angeles on scenic Mullholland Drive.
This year's talks were really exciting, with many new fresh subjects and some with historic acumen to make this a very interesting and educational Pearl Ruckus.
The presentations started at 9 am on Saturday 30th with my own presentation about "Unusual Mexican Pearls", offering up a description of not only our Cortez Pearls, but also of other –less known- natural & cultured pearl varieties from the Pacific & Atlantic coasts, such as Pen Shell, Mussel, Scallop and Conch pearls.
I was followed by my dear friend Josh Humbert of Kamoka Pearls whose presentation was about his Kamoka Pearl Farm, then another great friend Michael Rivers with his presentation about the "History of Pearl Nuclei Production", the followed by yet another good friend (I see a pattern here…hmmm) Blaire Beavers with a very interesting talk about "Pearls on eBay", followed by a lunch break and continuing with a great joint-presentation by Kevin Canning (CEO of "Pearls of Joy") and Jeremy Shepherd (CEO of "Pearl Paradise")…and this special presentation was all mostly about recent changes in the Cultured Pearl Association of America (CPAA), basically great news for the industry…and the cherry on top: the new CPAA Pearl Course which will soon become open to the general public but that –so far- will be open exclusively to Pearl-Guide.com members! You can check it out here: Pearls As One.
Finally we had yet another great presentation by Jennifer Heebner of JCK fame, showing off the work of some great designers, and this list –of course- included some designs by yet another great friend: award winning Hisano Shepherd! Jennifer actually wrote about her Pearl Ruckus Experience…but you will need a special login access to read it. Sorry!
And to close up…yet another very dear friend of mine: Sarah Cannizaro of Kojima Pearl Co, with a great presentation about the History of the Kasumi freshwater Pearl from Japan. All the presentations were fantastic and a true learning experience for all the crowd of Pearl Lovers.
And actually, we talked a bit about this: Pearl Lovers are a Special breed, different from people into other gemstones (diamonds, emeralds, etc.)…people that work in different areas of the Gem or Jewelry Industry.
Perhaps this is due to the fact that ours is a LIVE GEM: it is created within a living organism that THRIVE in a HEALTHY ENVIRONMENT…it is not an inert stone or metal that has to be dug from the ground, then uncovered, processed and finally look beautiful. So, from the very beginning it is a very noticeable difference, and this "Life Aura" probably attracts people that have the same affinity. I am not saying us "Pearl People" are better than –lets say- "Diamond People", but just different.
Anyway, I leave you with a image of this year's BEST CORTEZ PEARL…a beautiful 10.5 mm Erotochromic Gem +++ pearl. This pearl was proudly shown to all of the Pearl's Ruckus attendees. For the time being I say goodbye so I can prepare this same entry in Spanish.
Thank you!
Douglas